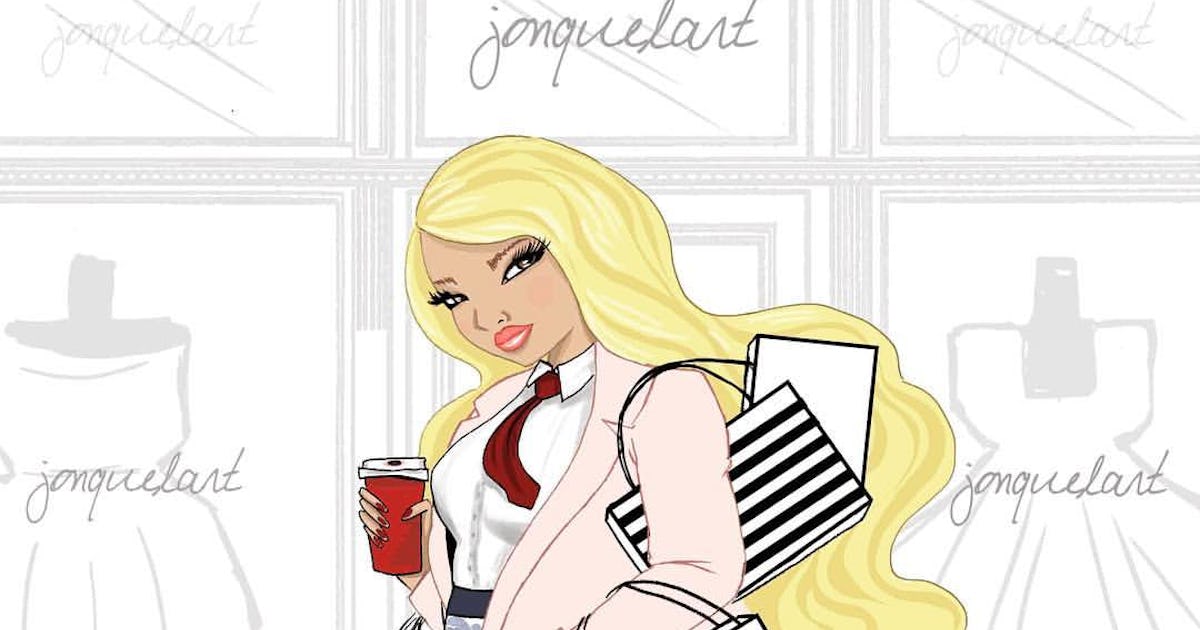 27 Instagram fashion illustration accounts that will remind you of the power of style
When it comes to being inspired by all things fashionable on a daily basis, I can't just flip through magazines and follow fashion blogs on my own. Fashion is, after all, an art form. This is one of the many reasons I love following fabulous fashion illustration accounts on Instagram for a daily dose of magic.
One of the wonderful things about style is how it inspires us all in so many different ways. For many, the worlds of art and fashion go hand in hand. Coco Chanel said it best when she thinks, "Fashion is not something that only exists in dresses. Fashion is in the sky, in the streets, fashion has to do with ideas, the way we live, what happens." Chances are, if you love clothes, you appreciate the power and influence they can have in the art world.
Some of us bring fashion inspiration straight to our closets, putting together outfits in a playful way and letting our creativity soar. Others peruse blogs or magazines, flipping page after page of editorials and imagining themselves in the beautiful clothes we see printed on the pages.
But then there are those who take inspiration from the style and express it artistically with the powerful pen, creating absolutely fabulous illustrations that make the imagination soar. The results can be downright magical, so let's take a look at 27 absolutely fabulous fashion illustration accounts to follow on Instagram.
1. @guillermo_meraz
I first came across this amazing illustrator when looking for Star wars fashion inspiration, and I'm pretty sure I took my breath away at the time. The artist draws inspiration from both fashion and pop culture (Star wars, Disney and Nintendo, to name a few) and weaves them together to create these absolutely stunning designs.
2. @jonquelart
This fabulous artist is one of the hottest plus size and body positive fashion illustrators today. I always look forward to seeing his absolutely stunning and fabulous artwork featuring some truly tall, curvy, and gorgeous characters.
3. @elistjohn
Are you a fashionista who loves designers, magic, mermaids and Disney? Then this absolutely magical account is perfect for you.
4. @armandmehidri
I'll let this fierce illustration of Queen Bey speak for itself.
5. @ miss_victoria25
This stunning account draws heavily on French fantasy and couture (with a focus on Chanel), and is the absolute dream of any fashion princess.
6. @happysunnygu
This beautiful tale tells great sartorial stories with illustrations that will transport you to the land of fantasy. The use of bright colors and fun, whimsical patterns is impeccable.
7. @curvysketches
This glorious tale features sketches that are body positive and absolutely inspiring. As the name suggests, the account sketches curvy girls and turns them into illustrated track goddesses.
8. @ magdalena.kruszynska
This Paris-based illustrator and fashion designer uses her own fashion inspiration to tell absolutely enchanting stories that will leave you completely mesmerized.
9. @hayden_williams
This fabulous artist takes inspiration from dolls, pop culture and music and makes absolutely fantastic illustrations of them.
10. @sam_shan
This charming artist takes inspiration from fashion, fairy tales and fiction, creating delightful illustrations that seem straight out of a children's book.
11. @irenealvarezalaez
You will probably get lost in these wonderful illustrations which combine fashion and fantasy in a truly captivating way.
12. @ m.michelillustration
If you are a fashionista and love gorgeous dresses and dresses then you should definitely follow this account.
13. @diarysketcheslk
When you take catwalk and streetwear designs from some fabulous designers and turn them into amazing illustrations, you get this mind blowing account.
14. @emmakennyillustrations
Do you like everything about fashion, pop music and the Kardashians? Then you just have to follow this one of a kind Irish illustrator.
15. @yigitozcakmak
For the love of Beyoncé and all things #Royal Queen and fashion, follow this awesome account of fashion illustrations.
16. @cristinaalonsoillustration
Let yourself be carried away in a beautiful fashion fantasy filled with mermaids, dresses, lingerie, flowers and all that is couture.
17. @thepaintedshoe
This artist takes some of our favorite characters (like Hermione and the Disney Princesses we all know and love) as well as self-created characters and turns them into delightful, fashion-inspired illustrations that are absolutely faint-worthy. .
18. @ jf.illustrations
This Miami-based fashion designer and illustrator takes fun, feminine and flirty fashion to a whole new level.
19. @ponyy_boyy
How amazing is this approach to fashion inspired by Disney's powerful couples? For brighter illustrations like this (including Mad Kardashian Love) check out this New York-based illustrator.
20. @rongrong_devoe_illustration
Yes Sex and the city was an Instagram account, it would look a lot like this. I am completely obsessed with these illustrations.
21. @clementlouis
This Paris-based illustrator takes inspiration from fashion and transforms it into extremely compelling works of art.
22. @georginachavezbdr
This absolutely stunning account features beautiful illustrations inspired not only by fashion and fantasy, but also by your favorite pop culture women (like Rey, Sailor Moon, and Marie Antoinette, to name a few). They are so gorgeous, and I am so obsessed.
23. @hnicholsillustration
These stunning illustrations featuring some of the most gorgeous dresses take my breath away.
24. @ darenj22
This fiercely positive body-positive illustrator serves us pure fashion fantasy with her stunning visions. Filled with inspiration also from movies, TV and music, this amazing account will keep you absolutely blown away.
25. @studiofantasma
Being on this account is like flipping through a brilliant book of fashion stories.
26. @ger_lar
These illustrations are colorful, fun, and just plain awesome.
27. @maruka_
This gorgeous account features fashion-inspired artwork with a little bit of Gothic twist to die for.
Fashion has always been an art form for many of us, moving and inspiring in every way and in every way. Style, like all art and creativity, knows no bounds. And when the three collide? The magic is really created.
Picture: jonquelart/ Instagram