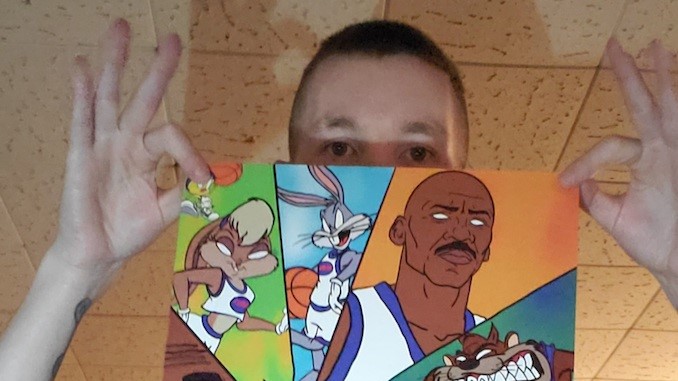 "A Day In The Life" with cartoonist and photographer Ryan Andrew White
Ryan Andrew White is a self-taught artist who has a variety of styles. He makes cartoons and animated shorts based on his favorite childhood movies, such as The Simpson's and Hey, Arnold! At age 11, he started making one-page comics in his school calendars, sharing them with classmates and friends, and hasn't stopped working/progressing ever since. His attention to detail, as well as his ability to capture the realism of the subjects he draws, only grew stronger. There are a lot of bright colors in his art, which caught the eye of some of the celebrities he portrayed. He is slowly gaining popularity as he hones his skills, which also includes his photography/photoshopping, and even his writing. Ryan is a movie buff, something he learned from his father and practices his acting as well as directing. Ryan loves making art more than anything, and as an introvert, he sees creating and sharing his art as a sort of therapeutic experience, allowing him to come out of his shell. He grew not only as an artist but as a person. Ryan remains humble, but has begun to gain the confidence to succeed in the industry, he knows what he has and what he is capable of, and he continues to work hard to achieve his dreams.
Written by Kim White – proud mother
***
What neighborhood are you in?
Born and raised in Rexdale, Ontario. Some call it a ghetto, I just call it home. Mostly a quiet neighborhood, surrounded by my extended family. I was born on the street where I have lived all my life and hope to make it to downtown Toronto.
What are you doing?
Currently employed at the Soho Hotel Downtown Toronto, saving money for my art.
What are you currently working on?
I'm still working on my drawings and have added photography/modeling to the list. I have also started designing my own clothes and hope to create a website and sell my clothes, as well as my art prints. I've been working on a script for a movie that I hope to make in the near future. Spend a lot of my free time watching movies, they help get me in a creative mood if I ever feel uninspired. I'm heavily influenced by my favorites, Quentin Tarantino and James Gunn.
Where can we find your work?
Right now I have 2 Instagram accounts, @twinbladestuff for drawings and @ryanandrewwhite for photography, design editing, acting skills and some of my singing. I like to entertain, even if it's just for me. I also have a Twitter Account.