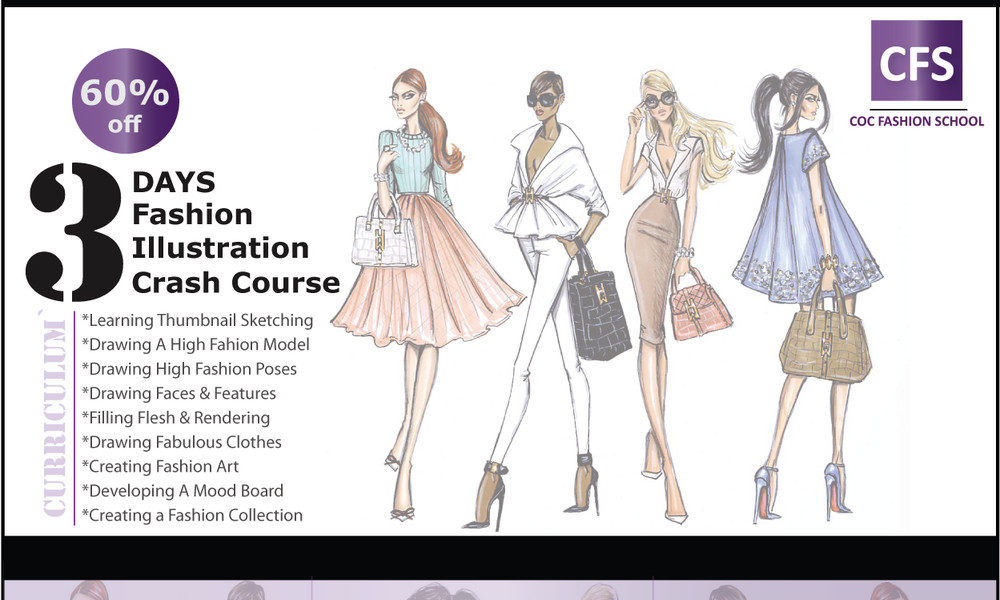 COC Fashion School Presents 3-Day Crash Course in Fashion Illustration
Miniature sketches, fashion designs, fabulous clothes, details, collectible design and much more in three spectacular days to transform you from scratch into heroes of fashion illustration.
COC Fashion School Presents his 3-day crash course in Fashion Illustration which ensures every dedicated beginner with adequate professional skills to create fabulous fashion designs and art of fashion without assistance.
Build your fashion portfolio, develop your design skills, become a fashion artist, dramatically improve the representation of your fashion ideas. Style rooms like never before, create lookbooks that will blow your mind!
It's here, it's intensive, it's short, it's discounted and it's the best course for you
Study programme
Introduction to fashion illustration and its opportunities
Fashion illustration techniques
Freehand sketch
Learn to draw a fashion figure
Draw mannequin poses
Drawing faces – Asians, Africans, Caucasians
Render of the flesh and details of the face
Draw fabulous clothes
Draw curtains, ruffles, trims, buttons and details on clothes
Dress up your mannequins
Fabric rendering – Sheer, lace, prints, etc.
Develop a fashion collection
Create a mood board for your collection
Develop your portfolio
Project
The training schedule
Lagos:
Dated: From Friday May 6, 2016 to Sunday May 8, 2016
Time: 2 p.m. – 6 p.m. every day
Place: # 3 Agungi Road, next to the Lekki Lagos highway
Course fee: N35,000 (includes certificate, refreshments and tools)

Abuja:
Dated: From Tuesday May 17, 2016 to Thursday May 19, 2016
Time: 2 p.m. – 6 p.m. every day
Place: Pure luxury apartment and suites | 35 Umaru Dikko St. Off Mike Akihgbe St. By Dominion Int. School, Jabi, Abuja.
Course fee: N35,000 (includes certificate, refreshments and tools)
Port-Harcourt:
Dated: From Tuesday May 31, 2016 to Thursday June 2, 2016
Time: 2 p.m. – 6 p.m. every day
Place: Genesis Castle Hotel, 22 Thompson Avenue, off Woji Road, Port Harcourt
Course fees: 35,000 N (includes certificate, refreshments and tools)
To register, click on the link Register now: http://wp.me/p6isD6-9O
For more details:
Call: 0817 982 7083
E-mail: [email protected]
Visit: # 3 Agungi Road next to Lekki Highway, Lagos
Seen: www.cocfashionschool.com
________________________________________________________________
Sponsored content