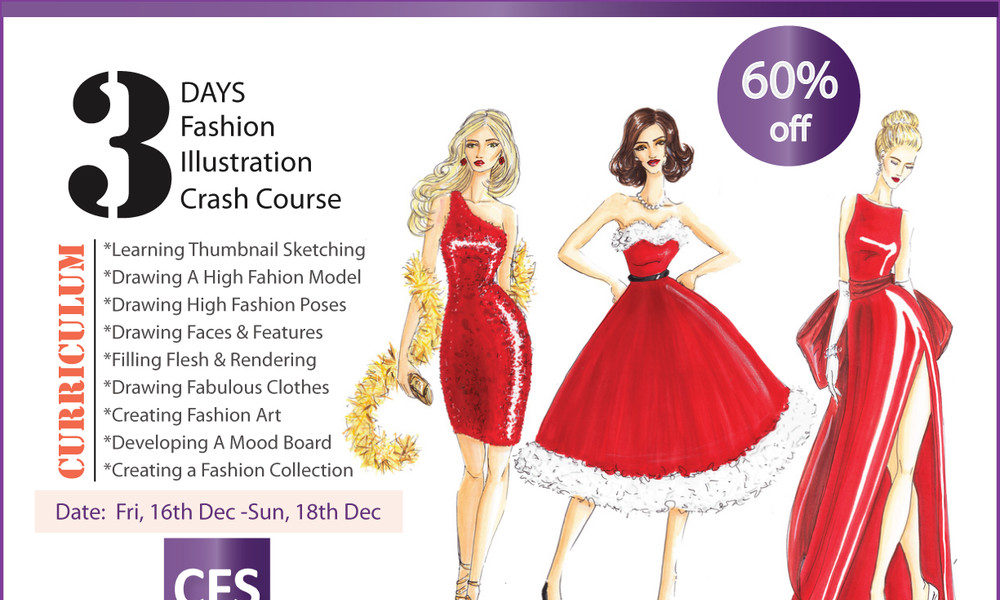 COC Fashion School Presents Intensive 3-Day Fashion Illustration Course | December 16-18
Yes, we are starting again !!! Just because you asked for it.
COC Fashion School Presents his intensive 3-day end-of-year course on fashion illustration. Learn the best of miniature sketches, fashion designs, clothing rendering, collection design and detailing in our 3-day crash course in fashion illustration.
Here is a great opportunity to develop your fashion portfolio, develop your design skills, become a fashion artist, create stylish pieces and create glamorous lookbooks that represent your fashion ideas in a professional way.
Study programme
Introduction to fashion illustration and its opportunities
Fashion illustration techniques
Freehand sketch
Learn to draw a fashion figure
Draw mannequin poses
Drawing faces – Asians, Africans, Caucasians
Render of the flesh and details of the face
Draw fabulous clothes
Draw curtains, ruffles, trims, buttons and details on clothes
Dress up your mannequins
Fabric rendering – Sheer, lace, prints, etc.
Design a fashion collection
Create a mood board for your collection
Develop a LookBook
Creation of your portfolio
Project
Who should register for this course?
Fashion designers / entrepreneurs who need to interpret clothing for clients or clothing producers
Fashion aspirants who wish to apply for competitions or international fashion schools
Fashion stylists who would like to portray their signature looks and lookbook series
Fashion editors / editors / reviewers who need to describe dos and don'ts etc.
All fashion lovers, art aspirants and creative entrepreneurs
Any other person
The training schedule
Dated: Fri 16 December 2016 – Sun 18 December 2016
Time: 2 p.m. – 6 p.m. every day
Place: COC FASHION SCHOOL | # 3 Agungi Road, next to the Lekki Lagos highway
Course fees: N35,000 (including certificate, refreshments and tools)
To register, click on the link to register: http://wp.me/p6isD6-bV
For more details:
Call / Watsapp: 0817 982 7083 | E-mail: [email protected] | visit: # 3 Agungi Road next to Lekki Highway, Lagos | See: www.cocfashionschool.com
________________________________________________________________
Sponsored content