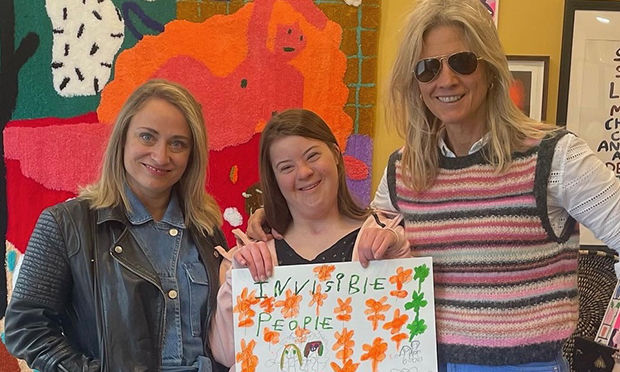 Famous cartoonist shines a light on people who feel invisible with Hackney's artistic journey – Hackney Citizen
"As a mother of someone with a learning disability and Down syndrome, it's really important that people see and recognize my daughter and her abilities – just like any other mother, you will," Henny said. Beaumont.
The designer, who works for the Guardian and is artist-in-residence for the British Institute of Learning Disabilities, is partnering with businesses in Stoke Newington this summer to organize a public exhibition featuring work by people who feel marginalized.
The Invisible People Art Trail will take place July 2-10 and will see artwork, including some by Beaumont's 21-year-old daughter Beth, displayed in store and restaurant windows to celebrate difference and the talent.
The project is being carried out in partnership with Kate Revere of the social enterprise Revere the Residence, where Beth works during the holidays. Piper, Revere's daughter, is deaf and autistic.
Beaumont said: "Kate and I bonded over the feeling that we both think our daughters are a bit invisible. They feel like they are not part of the community – friendships are very difficult and isolation is a real problem.
"Beth draws all the time. She makes beautiful drawings. She has her own style completely. She draws directly from her imagination. She draws her family and friends and she is obsessed with flowers and butterflies but does it in her own way.
"It's been very difficult to get people involved, to feel responsible and to understand what she has to offer and how precious, charming, funny, warm and brilliant she is.
"It's very difficult because people see the disability first and don't consider all the other wonderful features."
Beth, who studies catering at Minehead University, said: "I hope people like my photos and that I feel happy. When I paint, it relaxes me.
Only five percent of adults with learning disabilities are employed.
Beaumont added: "That's shockingly low. Beth's college has a 65% employment rate after college – it shows what can be done. We try to do something to help people earn money and be recognized.
Revere the Residence provides employment and work experience for youth with disabilities or additional needs, or their parents.
Beaumont, who has three other children, added: "Kate saved Beth's life because she created a community of people with learning disabilities and other disabilities, and you will see the warmth and the meaning of the community in the store when everyone is together.
"The Art Trail is a celebration of the abilities of these people, an opportunity to make people feel visible and their works seen. It is an appreciation of difference.
Revere's daughter, Piper, will also be exhibiting her artwork, and Beaumont added, "Piper comes and draws with me and she does amazing drawings. She draws until her father comes to get her! She has a lot of work in the series.
A host of aspiring artists who feel marginalized submitted works for the exhibition.
The works will be sold, with all profits going to the artists. The sale of all donated works will help fund the Stoke Newington Business Association (SNBA).
Beaumont and artist Brigit Connolly also worked with local special educational needs school Stormont House to produce plates and mugs featuring the students' artwork. The crockery will be sold in Stoke Newington this summer.
The requirements are:
• You must live or work in Hackney.
• Your original artwork – this can be a sculpture, painting, wall hanging, ceramic clothing design, photograph.
• Your work will be available for sale at the end of the exhibition.
• Please send a photo of your work. Organizers need to know the size and materials used (if that has a sustainability angle). And they want to know your story, which they would like to place next to your work. Examples could be: your favorite activities, why you love Hackney and why you feel invisible. It's up to you to share as much or as little as you want.