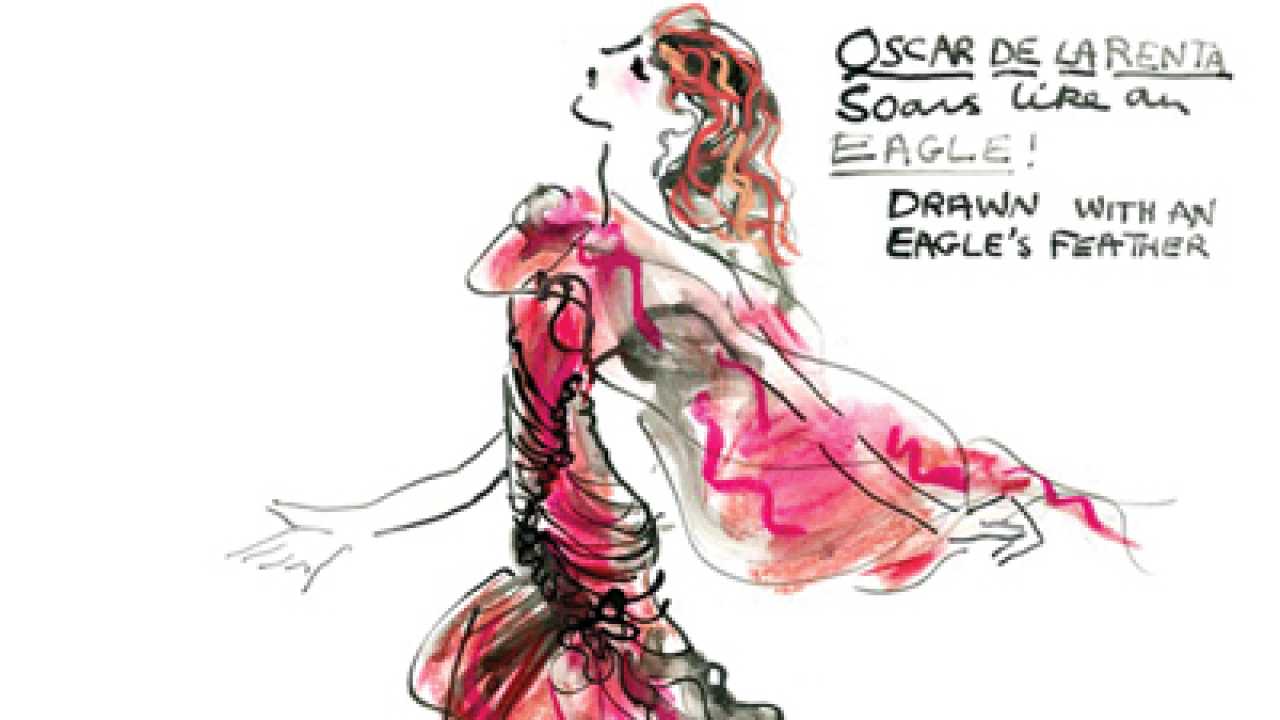 Is fashion illustration a dying art?
Fashion illustrator Gladys Perint Palmer has spent more than three decades chronicling couture. The former fashion journalist, leading fashion commentator and bestselling author, who says draws faster than she writes, is currently executive vice president of artistic development at the Academy of Art University in California.
We met Gladys, affectionately known as GPP, in Bangalore as she visited several Indian cities as an Ambassador for the Academy of Art University. In addition to networking in India, she draws. His illustrations include views of the Gateway of India and the Taj Mahal, women in saris and anarkalis, bindi, men in traditional Nehru jackets, fancy wedding attire, and Lord Ganesha. This is not the first time that she has captured something Indian on her canvas. It turns out that she unknowingly illustrated Sonam Kapoor, during Elie Saab's presentation at Paris Fashion Week some time ago. "I saw her sitting in the front row. She had a beautiful face and I immediately captured her. I learned later that she was an Indian superstar, "says Gladys, who has also sketched celebrities like Julia Roberts and Karl Lagerfeld. She finds the 90s – when many individual designers became big names – the most creative time in the world of fashion. Gladys says it's not the clothes that interests her, but the people who wear them and the way they wear the silhouette, the colors and the dramatic accessories.
Sonam Kapoor by GPP
This high-photography illustrator also has her bad days. "The challenge is to have a good day. A drawing can take seven minutes or 30 years, "laughs the soft-spoken artist whose favorite labels to work with are Azzedine Alaia, Jean Paul Gaultier and John Galliano. His most memorable project was to illustrate the houses of Versace and to work on "Prêt-à -Porter" by American filmmaker Robert Altman.
Gladys' works are mostly effortless line drawings with incredible use of color. "I call it the Gladys technique. I love the line. I keep changing my tools. At the moment I use an ink dropper and my fingers. In the past I have used an eagle feather. I don't know what's next, "says Gladys, who also uses digital media. "I created several illustrations on the i-Pad. The two mediums although different but good. What makes the i-Pad nice is that it's practically invisible. You can't always lay out a sheet and start drawing without being intrusive.
Given the emergence of new-wave photography, I can't help but wonder if old-fashioned fashion illustration is a dying art, and if fashion illustrators are really an enduring species. Endangered. "It is not an endangered art," says Gladys. "Photos are important. But there is also a lot of work for illustrators. The illustrators who don't get work are the ones who make these claims.
This graduate of Central Saint Martins in London and the Parsons School of Design in New York, actually learned drawing from her mother. In addition to publishing her work in fashion glossaries and advertisements, Gladys has also published three books of her works. All of them, especially Adam and Yves, sold well. She is currently working on her fourth book titled Designer Dogs and Couture Cats.