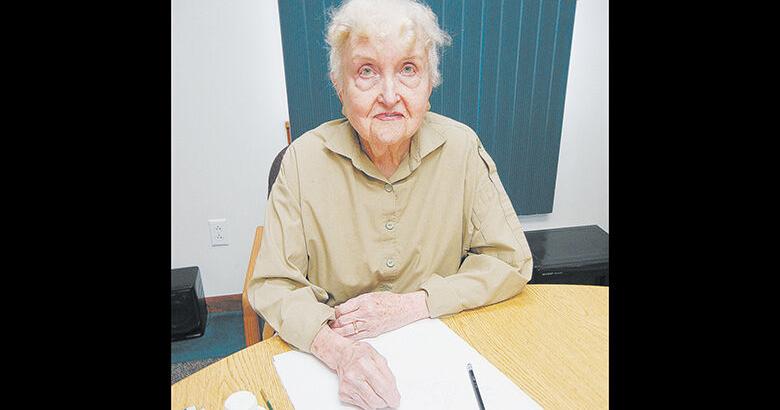 Leading cartoonist Judy Dixon dies at 95 | Local News
Hall of Fame cartoonist Judith "Judy" McCormack Dixon died July 7 in De Soto at the age of 95.
Ms Dixon has enjoyed a career spanning over 70 years as an artist, the last around 25 as an editorial cartoonist for the Chief. Her last cartoon appeared in the May 20, 2021 issue, and she officially retired the following month.
Dixon's work has consistently won awards from the Missouri Press Association, including first place for rendered cartoons in 2010, 2011 and 2012.
Named to the Missouri Press Association Hall of Fame in 2014, Ms. Dixon has already received numerous local, state and national awards.
"She could deliver a well-pointed beard, but generally with a sense of whimsy and fun," retired editor and publisher Patrick Martin said in his farewell editorial last year. "She's a joy – and a weapon – that any editor would love to have."
Mrs. Dixon was born on January 15, 1927 in Festus, the daughter of the late Harold and Verna (Thomas) McCormack. She started drawing at a very young age.
"I drew my first recognizable figure when I was 2 years old," she said upon her Hall of Fame induction. "There was never any question that I would work as an artist.
"I love it."
She graduated from Washington University in 1949 with a degree in fine arts and worked for a time as an illustrator for Concordia Publishing in St. Louis.
"She wanted to be single and study art in Paris," said her daughter, Dru Dixon de De Soto. "Then she fell in love with my father."
She married LeRoi "Lee" Dixon, a professional fundraiser, and they raised five children while moving more than 25 times to locations across the country. They moved back to Jefferson County for good in 1977, and she took a job with the former Daily News Democrat in the publicity department.
Her children benefited from their mother's talent even as small children.
"If my older sister had trouble finishing a drawing of Cleopatra, my mom would come here, giving her the perfect cat eye," Dru said. "When I was about 5, I went through a period of nighttime frights, and she would calm me down by drawing sleeping kittens. I vividly remember their ball-shaped bodies and their tails wrapped around them .
Ms. Dixon's artistic talent extended to other mediums.
"She was such a talented seamstress and designer," said her eldest daughter, Barbara O'Barr, of Texas. "She once made me a dress with petticoats, and it was the most beautiful thing. Everyone wanted one like that. And we always had the most amazing Halloween costumes.
Mrs. Dixon made portraits of her children and other people.
"I remember an unfinished ink of Martin Luther King Jr. looking at me from his art table," Dru said.
Ms. Dixon has also drawn illustrations for children's books and horror comics, as well as numerous fashion designs. She illustrated Bible stories, designed advertisements and designed greeting cards.
"I remember once she got a call to do a drawing on a really short notice for a lobster dinner," Barbara said. "She did the cutest little photo of a lobster sitting at a table wearing a bib – and all of that in about 45 minutes."
But there was more to their mother than art, say Mrs. Dixon's children.
"She possessed an unwavering determination that can only come from living through the Great Depression," Dru said. "My father's occupation was quite hectic when I was little, but thanks to my mother, we never did without it."
Mrs. Dixon enjoyed newspaper work, despite the pressure of deadlines.
"She loved it at Chiefloved everyone, loved being part of it," Dru said.
Failing health led her into retirement and Ms Dixon continued to decline in recent months. She had a stroke at the end of June and was hospitalized in the house she shared with Dru when she died peacefully.
"When she retired, people thought she had given up her pencil. But that's just not true," Dru said, showing a portrait her mother made in late 2021 of rock musician Walter Egan. "She was an artist until the end."
Ms Dixon was a Methodist and a member of Phi Mu sorority. In addition to her children Dru and Barbara, she is survived by her twins Greg Dixon of Douglassville, Pennsylvania, and Pamela Calabrai of Washington, Gary Dixon of Tucson Arizona, as well as eight grandchildren: Sarah, Brandon, Jax, Max and Blakely. Calabria, Erica and Clayton O'Barr and Wesley Dixon; and one great-grandchild: Hayden Jones.
Mrs Dixon chose to be cremated and her ashes scattered with those of her late husband.