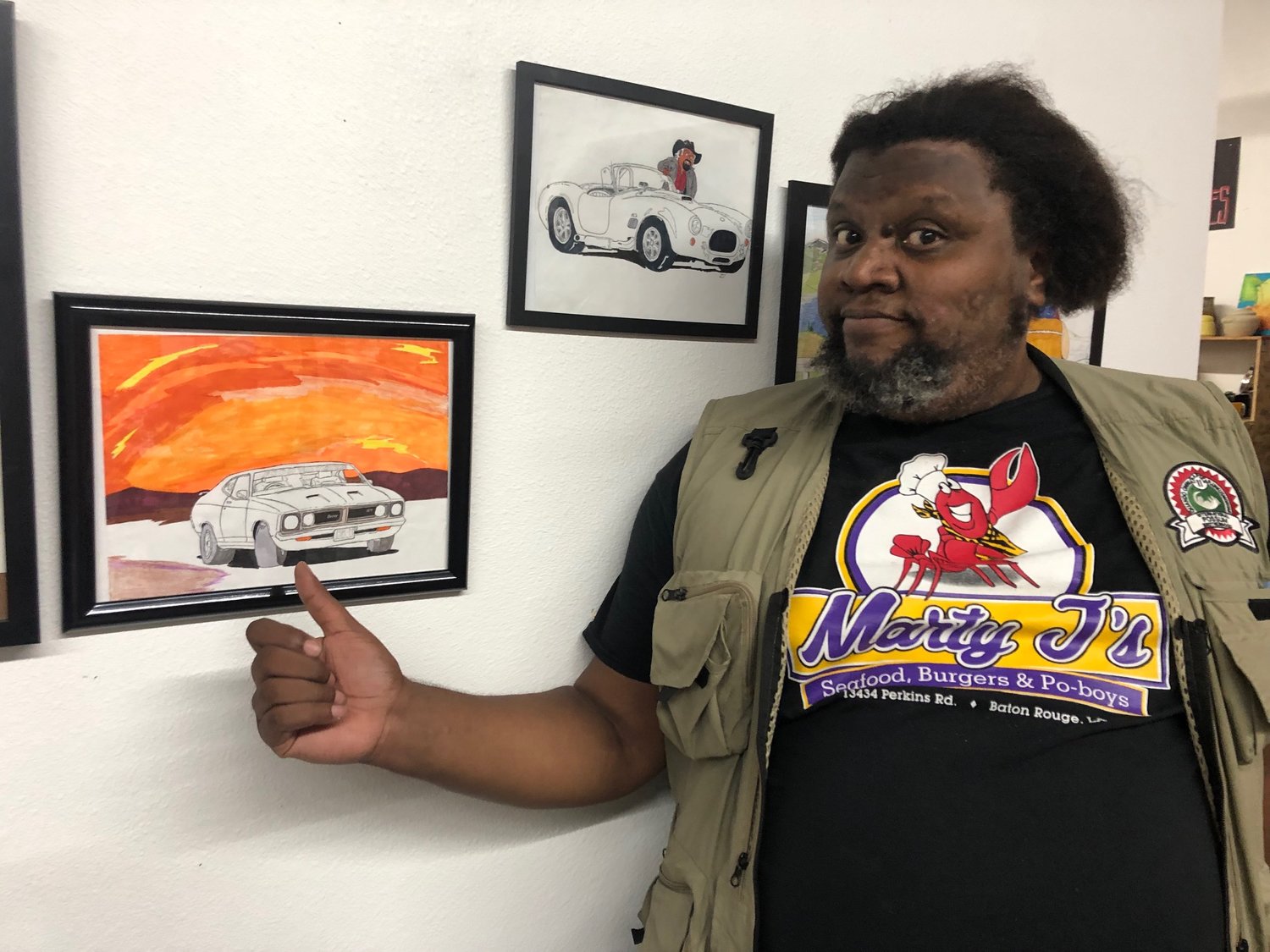 The works of gay cartoonist Logan 'Snoopy' Chrysler on display at Gallery Boom
By Danny Stusser
Logan Chrysler's art reflects his mixed heritage, cultures and backgrounds. He identifies as a Métis – a descendant of Canadian First Nations (Nez Percé, Samson Cree) and Africans; he came out as a gay artist and will tell anyone who asks that he is a survivor of two traumatic brain injuries.
Most of his pen and ink drawings depict single men or male couples in cars or motorbikes. Many are filled in with color, some are only in black ink.
He's a towering presence at over six feet tall, but the cartoon that could make him a household name is that of a gay little Scot, Charlie Sullivan. The character is "gay, 1.75m, bald with three short hairs that cross his head, a beard and Euro-style horn-rimmed glasses. His age is around 52," Chrysler said. Shaking yesterday.
"Charlie Sullivan" first appeared in 1997 in San Diego Espresso, the cafe newspaper there. Later "Sullivan" raced twice in Canada Maclean's magazine, in a Norwegian cartoon magazine, and three times in Tintin review in Belgium. The character now comes back to life, in the advertisements of an industrial company whose name is not yet known and in the Seattle Gay NewsChrysler said.
The name
Many people ask Chrysler if it is part of the famous Chrysler family, that of Walter Chrysler, Sr., founder of the automobile company. He replies that Bernice Chrysler Garbisch, Walter's daughter, was his aunt. Garbisch and her husband, Edgar, were well-known art collectors.
Despite his pedigree, his automotive art does not focus on the Mopar family of automobiles. There is also a mix of Ford and European cars. A self-portrait shows a Snoopy-like image in what he called his uncle's Ford Cobra.
The other name
At the 1990 New York Auto Show, a friend gave him a promotional Chrysler t-shirt featuring Charles Schultz's character, Snoopy, driving a Plymouth Duster. After wearing this shirt, friends started calling him "Snoopy".
Chrysler said he was born at Lenox Hill Hospital in New York in 1958. His family included 11 siblings (he is the "seventh son"). They moved when he was a young child to Powell River on the Sunshine Coast. of British Columbia. They moved across Canada, he explained. At the time they were living in Toronto where, at the age of 10, he got an internship at a local advertising agency. His profession: to draw.
Related to his work as a draftsman, Chrysler is a student at Evergreen State College, working on a Bachelor of Fine Arts degree.
You can meet Snoopy Chrysler this Sunday at a reception at Gallery Boom, 3959 Martin Way East, from noon to 4 p.m.